What is #MicroBizMattersDay?
#MicroBizMattersDay is a day designed to show the world the massive contribution independent business owners and the self-employed make to the global economy, job creation and community. We call this combined power of micro enterprise owners the #PowerOfPlenty.
The third #MicroBizMattersDay took place on Friday 13 January this year, with thousands of business owners joining in with #IGave13 - tips for other micro biz owners, or 13 minutes of their time. We even trended at #2 on Twitter for the afternoon! The next #MicroBizMattersDay will be on Friday 12 January 2018, when hundreds of thousands of micro business owners - in fact we really hope it will be as many as 10 million world-wide - will be giving 12 minutes (or more) of their time to help other micro business owners somewhere in the world. The three main areas of focus for #IGave12 minutes of action to help other micro enterprise owners are:
#Customers
#Cashflow
#Chat
This annual day of Recognition, Action and Learning helps us achieve the aim of the Enterprise Rockers' global community and movement that was launched in January 2012; that aim is 'to make life better for micro enterprise owners everywhere'.
#MicroBizMattersDay of actions is primarily for these people – the #PowerOfPlenty. But on #MicroBizMattersDay everyone can play and do something to support micro enterprise.
You can visit www.microbizmattersday.rocks to find out more, or click on the Enterprise Rockers round button below to see what fabulous work Tina and Tony carry out to help us!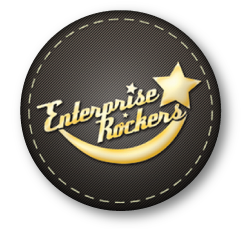 "Thank you so much - you are a star of the shiniest kind!"
Tina Boden, Enterprise Rockers